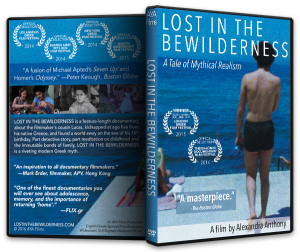 LOST IN THE BEWILDERNESS is a feature-length documentary about the filmmaker's cousin Lucas, kidnapped at age five from his native Greece, and found a world away on the eve of his 16th birthday. Part detective story, part meditation on childhood and the immutable bonds of family, LOST IN THE BEWILDERNESS Is a riveting modern Greek myth.
99 minutes
English/Greek/Spanish/French subtitles
HOME USE
To purchase a home video DVD for private, personal use only.
Price: $29.95 + shipping
HIGH SCHOOLS AND PUBLIC LIBRARIES
DVD for high school and community libraries.
Price: $59.95 + shipping
UNIVERSITIES, COLLEGES and other INSTITUTIONS
DVD for universities, colleges and other institutions.
Price: $295.95 + shipping
Secure payments via credit card or Paypal. We never see your credit card numbers and don't store them.
Priority shipping for DVDs is 1 – 2 weeks or less.
If you need overnight, 2-day, or international shipping please contact us.